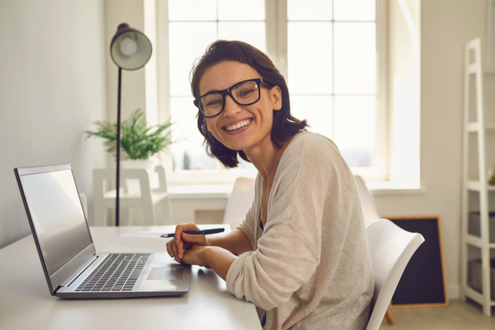 At Dialog Plus, we are recruiting native and near-native instructors for our online English conversation school.
We are looking for teachers who can bring out their talents and help create an online English conversation school where excellent educators can deliver high-quality lessons.
We welcome applications from experienced instructors in English conversation schools, cram schools, and online English conversation platforms. We are seeking teachers who prioritize the improvement of their students, and approach their work with love and passion.
Both active teachers in traditional in-person English conversation schools and retired senior teachers are also welcome to apply.
Future of Communication
Creating the future with the power of dialog 
As Dialog Plus, the operating company, we are here to support the wonderful encounters between "teachers" and "students."
Job Description for Online Instructors
This is a job where you enter into a service contract with an online English conversation school, register as an instructor, and provide English conversation lessons to the school's students.
Dialog+'s directly operated online English conversation school is "Adult English Conversation Club (Otona no Eikaiwa Club)," which was established in 2014. It is Japan's only online school specifically designed for the senior generation.
Online instructors who register with Dialog+ have distinctive features that set them apart from instructors registered with other schools.
Dialog+ is an outsourced management company for online English conversation schools and provides support for the operation of multiple online English conversation schools in Japan. As a registered instructor with Dialog+, you have the opportunity to work not only in our directly operated schools but also in many other online English conversation schools.
We have various online English conversation schools, each specializing in different areas such as Eiken (English proficiency test) prep schools, competitive university entrance exam prep schools, group lesson-focused schools, bilingual education schools, and more. We aim to create the ideal matches for both our registered instructors and the students of these individual schools by proposing teachers who best suit the needs of each school.
The Benefits of Registering as an Online Instructor with DIALOG+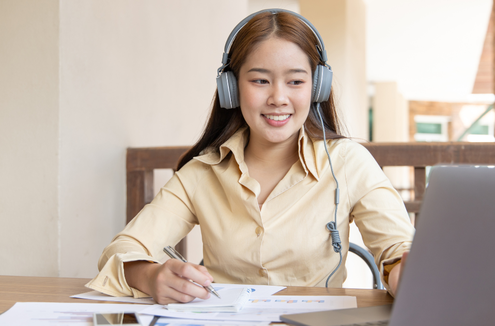 1. It expands your possibilities of teaching at various online schools.
Powered by Dialog+
Dialog+ manages multiple online English conversation schools, each with its own unique school culture and student body. While it's important that the appeal of the teacher aligns with the needs of the school and its students, this is something you might only fully understand by experiencing it firsthand. Dialog+ has a variety of workplaces and can make recommendations for schools that match the characteristics of each instructor.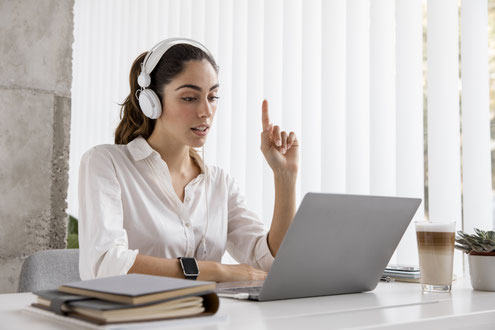 2. You can enhance your skills as a self-employed business owner. 
Dialog+ is a business development and marketing company. Marketing encompasses all activities carried out by companies to address the needs and challenges of their customers. This includes market research and analysis to discover needs, product planning and development based on this research, as well as advertising, promotion, and outreach to make customers aware of the developed products.
We provide know-how and guidance to make teachers more appealing as self-employed individuals, ultimately allowing them to increase their added value (in other words, earn higher compensation). For teaching professionals, acquiring a sense of marketing and know-how is highly valuable, as it equips them to thrive as online instructors in the era of AI.
Introduction to the Workplace of Online English Conversation Instructors
About the Adult English Conversation Club
The Adult English Conversation Club is a school tailored for "adult" learners, characterized by experienced teachers and a clientele with rich life experiences. Many of our students are in their 40s to 60s, embarking on a journey of relearning English. Initially, they may feel quite nervous.
We are seeking instructors who can offer creative lessons tailored to the goals and challenges of individual learners, without being confined to rigid methods or curricula. The ability to adapt to the unique needs of our students is what makes a teacher appealing in this context.
The lessons that teachers are most proficient in and eager to conduct are those that will contribute the most to the improvement of their students.
Students come with a wide range of challenges and aspirations. They are searching for teachers who can help them overcome their obstacles and support them in realizing their dreams, all while considering the teacher's profile and lesson proposals.
It's not about being an all-around teacher or having extensive teaching experience or high TOEIC scores. What's appreciated is a teacher who can imagine specifically how to make a particular student happy. Teachers who can visualize the challenges of their students and what they excel at will create a fantastic and fulfilling encounter for both the teacher and the student.
Please propose lessons that leverage your experiences to the fullest, providing an enjoyable and tangible sense of improvement for our students.
The Daily Workflow of an Online English Conversation Instructor
Instructors register their available schedules for lessons. When a student books a lesson, instructors can review the student's lesson history and preferences in the instructor management dashboard. They can also communicate via messages if necessary. Instructors add the student on Skype and make the call at the scheduled time. Lessons typically last for 25 minutes, and there are options for consecutive 50-minute lessons. Instructors provide feedback after the lesson.

※ Regarding Lesson Materials:Online manuals are available for free viewing. The materials are designed to facilitate lessons with a flexible style, drawing from the expertise and experiences that instructors have developed over time. Instructors can choose to use their original materials for lessons or utilize online resources, so the content of the lessons varies among instructors.

We are looking for appealing teachers who can provide creative lessons tailored to the goals and challenges of the students, without being confined to rigid methods or curricula. Please propose lessons that leverage your experiences to the fullest, offering an enjoyable and tangible sense of improvement for our students.  

Examples and Messages from Online Instructors Registered with DIALOG+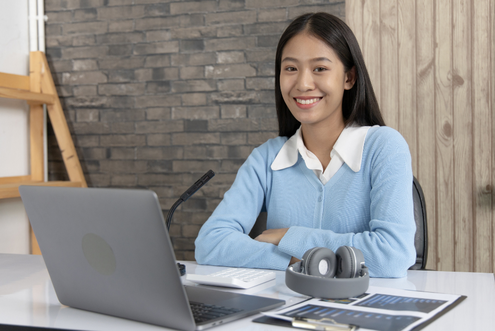 In our online school, the "Adult English Conversation Club," registered instructors have various ways to communicate their passion for the lessons and guidance they excel in to our users. Please refer to messages from registered instructors to our students. You can discover the unique qualities of each appealing instructor, including details about lesson content, learning advice, and the instructor's thoughts.
Japanese Instructor Blog Links
Online Instructor Recruitment Guidelines
Qualifications for Application
We are recruiting Japanese instructors who have a certain level of computer knowledge and fall into one of the following categories:
- Those with a TOEIC score of 800 or higher, or equivalent English proficiency, and/or
- Those with at least 4 years of experience as a teacher in schools, English conversation schools, or as private English tutors.
Our customers have various goals for their English conversation learning, including everyday conversation, business, kids, Eiken/TOEIC preparation, pronunciation guidance, grammar instruction, translation/interpretation, and more. Beyond broad experience, we are seeking teachers who can leverage high expertise and creativity.
Location of Employment
Work Location
Telecommuting (Available from both Japan and overseas)
 You can work from home as long as you have a computer and a reliable internet connection for using Skype. Our students come from all around the world, and we have many Japanese instructors living abroad.
*Please note that we will check your internet connection during the interview process.
 Lessons are conducted on a computer (not on a smartphone). The interview will also take place on a computer, so please ensure that you have Skype and a stable internet connection.
Working Hours 24 hours a day, 365 days a year.
It's a system where instructors set their available lesson times, and students can book lessons accordingly. There are no specific conditions regarding the number of days or hours per week.
While many online English conversation platforms have a system where you don't know who will book each time, at the Adult English Conversation Club, we often have many customers who prefer to continue lessons with the same instructor. Generally, after about 2-3 months of teaching, instructors find their available lesson slots being filled by repeat students.
Compensation
The instructor's compensation is calculated based on a certain percentage of the lesson price (in points) that the customer pays.
※This is not an employment form such as part-time or temporary work.
  For the initial period, we recommend setting a price that makes it easy for more students to try lessons. Starting at around 1,100 yen is common. However, the lesson fee per session can be adjusted within the company's specified range in consultation with the school.
This job is for self-employed instructors, and it involves enhancing your added value. At Dialog+, we work to maximize the appeal of each instructor and support the creation of wonderful encounters. It's up to the customers to evaluate the lesson prices suggested by the instructors. Together with the school, we strive to create services (lessons) of even higher value.
■The Hiring Process
Document Screening
Entry is done through the application form on the Adult English Conversation Club's website. We will conduct the selection process based on the information you provide.
For those who pass the document screening, we will coordinate an interview date.
Interview
We will conduct an interview in a question-and-answer format regarding your background and experience in English instruction. The interview will be conducted in English.
The interview will be conducted via Skype.
After passing the interview, you will be registered as an instructor with the Adult English Conversation Club.
Some schools have a large number of instructors, and others have high lesson fees. However, if you don't have a sufficient number of lessons (reservations), it won't lead to income.
At Dialog+, we place great importance on ensuring that all participating instructors are satisfied and can thrive.
The acceptance rate might be a bit low, but it's not based on any specific criteria. As a school, we look forward to the enjoyable encounters between our students and their desired instructors. Please feel free to apply.
Frequently Asked Questions (FAQ): About Online Instructors
Q: When are the peak lesson times?
Generally, online schools see more lessons in the evening and later, as many working adults and students tend to prefer those hours.
At Dialog+'s Adult English Conversation Club, we have a significant number of senior learners (who often prefer at-home learning), so the peak times are typically around 9-11 AM on weekdays. Lessons are conducted from morning till evening, catering to a balance of students, including children in the evening and working adults later on.
Q: What kind of instructors are common?
Instructors who operate their own English conversation schools, instructors affiliated with in-person English conversation schools, and those who work as instructors as a side job while having a primary profession. Instructors with past experience in English instruction who have resumed work from their homes and instructors living abroad who are trying teaching English for the first time, among others, are common. Students have various challenges and goals, so there are opportunities for instructors with diverse qualities and experiences.
Q: What kind of students are common?
In the Adult English Conversation Club, we have a significant number of senior learners who are enjoying English learning as a lifelong pursuit. Additionally, Dialog+ supports other schools specializing in various areas such as Eiken test preparation, bilingual education, and exam preparation. Therefore, each school has its unique focus, and instructors tailored to each specific context are in demand.
Application Method: Please apply through our company's application page on our website.